The idea that classroom learning needs to be authentic and relevant to students, that it needs to connect to their out of school lives, that it needs to be meaningful is a nice thought. The trouble with this thinking is that many students don't get it, want it, understand it. What happens outside of school stays outside of school, and that includes everything from personal devices to passions. We need to figure out how to blur the lines.
Some of my classes are engaged in blogging this semester and although we are slow out of the gates, I have high hopes for our progress.
I am taking a page from David Theriault who introduced me to the Re: Framed Blogging Project, where students design blogs around their personal interests and once a week post a blog entry that re:frames some aspect of their school learning.
So in one course where we think a lot about ethics, values, dilemmas and worldviews, a student who has created a blog around her love of music might re:frame a post around the idea of bands selling their music to corporations to be used for advertising purposes, which gives her the opportunity to think about the paradigm of short-term vs long-term through a personally relevant lens.
In another class, we have been exploring Joseph Campbell's hero journey monomyth and Carl Jung's archetypal theory. Students might choose to re:frame a post around this content. Some students just competed at the Regional First Robotics Competition, and I bet that the journey from building the robot to being awarded the top seeded rookie team took the team through many of the classic stages of the hero's journey.
I love this idea of re:framing the content because it will help all of us break down the barriers of what we think learning is, of what the value is of any particular content, and of what our connection to the process is.
BUT first, as with all assignments in my classes, I need to do the work too, so here is my first re:framed post.
I thought about re:framing Since You've Been Gone, the most recent YA novel I've read. There is much to consider about the way Morgan Matson portrays Emily's family and the ever present conversation about balancing the needs of the individual and those of the family (community).
Or the list! Matson uses the device of a list to hook us into the story. Don't we love lists–making them, reading them, tracking our lives with them.
But since this blog centres around learning and the learning process, I will re:frame Campbell's heroic journey as a way to consider the learning process.
---
Heroes. They take on  danger. Stand-up to bullies. Protect us. Inspire us. They make a difference in the world. Some of us probably aspire to being heroes. Some of us just can't help ourselves.
My husband is a hero. He has saved the day for many people. Not with the Harry Stamper kind of heroism, but with the kind that ensures that a car load of city-bound kids get to have their day of fun by rescuing their vehicle from a malfunctioning alternator. Or the kind that pulls cars out of ditches (mostly me, but others too), or that stands up for disenfranchised youth against the outcry of white privilege. It's subtle, but he, too, doesn't know how to fail.
Those heroic attributes-bravery, risk-taking, confidence, perseverance, self-sacrifice, determination, responsibility, personal ethics-they are also the attributes of the learner. Learners must be engaged in the process of acquiring knowledge, skills, and attitudes that will allow us to live the life we want. Joseph Campbell encourages us to find and follow our bliss:
"If you do follow your bliss you put yourself on a kind of track that has been there all the while, waiting for you, and the life that you ought to be living is the one you are living. Follow your bliss and don't be afraid, and doors will open where you didn't know they were going to be."
The call to adventure.
Ok. So we need skills and knowledge (reading, writing, math, science etc.), and the courage to take on the adventure that is our lives. It's what we want to do when we grow-up. It's how we want to live our lives. It's about how to be 'learning ready' when we leave high school.
Refusal of the call.
We think of learning as something that is done to us. We think of learning as showing up. We think of learning as being caught up. We think of learning as a straight line between point A and point Z. We think of learning as a series of marks or grades.
And yet something just doesn't feel right, does it? There's little connection between the disparate parts of my day. I don't feel like engaging in the work. I'm not excited by anything I'm supposed to be learning. I'm tired. I'm bored. I have no passion. Is this it?
The call to adventure repeated. 
What is learning then? What does it look like? Feel like?
messy
grey
non-linear
not the same for everyone
slippery
confusing
risky
challenging
tingling…goose bumpy
What do I need to know? To do?
ask questions
think critically
collaborate
engage my imagination
consider the long view
get involved
connect
make time for learning
reflect
know thyself as a learner
what's the plan
Leaving the traditional factory-based model of learning behind (the 'sit and get' learning, worksheets, chapter end questions, whole class novels, etc.) is not for the feint of heart.  What if I haven't blogged before? Or I hate writing, period? Or I've never completed independent work? What if I am a slow reader? Or so shy that I can't speak up in a group discussion? What if I have not thought critically about a text? Or participated in an inquiry?
Will I accept the challenge that learning presents for me?
The Meeting of the Mentor
It is the teacher who helps us to face the unknown learning tasks.  She teaches us skills and knowledge, and gives us feedback, advice, or guidance. However, the teacher can only go so far with us. Eventually, we must work independen

tly to demonstrate what we know, what we have learned, and what we have yet to learn.
(Sometimes the teacher is required to give us a push to get the learning started.)
Crossing the Threshold
We have to be committed to our learning goals because they will get us to where we need to go…they will help us follow our bliss. It's hard work, but we must agree to face the consequences of the challenges put before us — increased confidence and motivation as we produce work and receive feedback; confusion and an erosion of motivation when we don't. This is really the moment when the learning takes off!
Assignments, Portfolios, Tests, and the Processes Involved in Learning
There is always method to the madness that presents itself to us. We might not always be able to discern it, but there is a plan at work.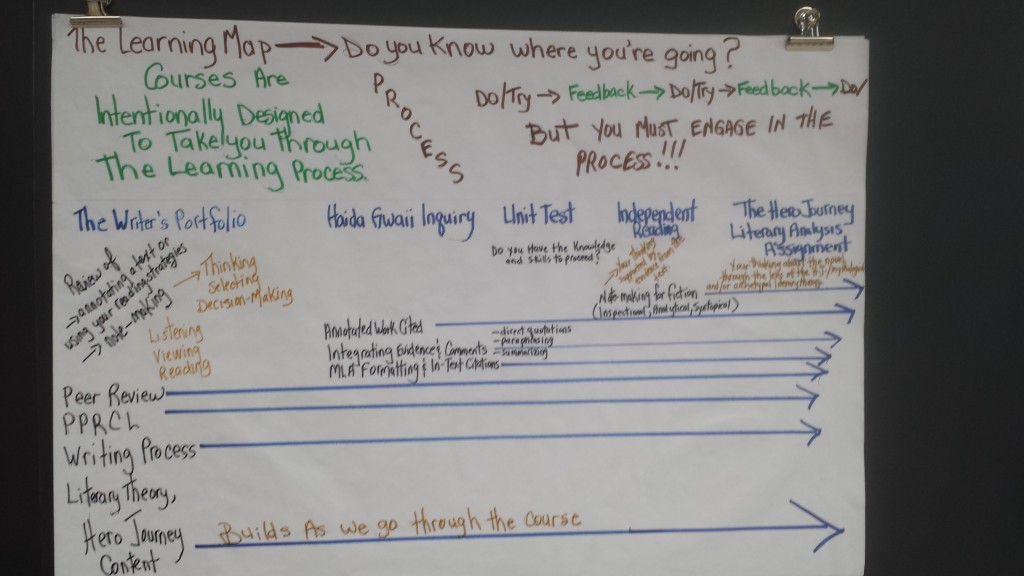 At some point, we need to shed the doubt and just go for it: trust the process, the guidance of the teacher, and the overall plan.
Are you?